02
Reduce Risk and Prevent Fraud
Easily coordinate and expedite documentary flows
End-to-end transaction management
Our solution
Our services are integrated on the Secro cloud-based platform. From here, you can access them for secure and efficient collaboration; negotiations, signing, financing, auditing, and execution of the most complex cross-border supply chain operations. Our solution aims to build trust, reduce risk and make global trade more equitable for everyone.
OUR QUALITY STANDARDS
Secro strictly follow well-established and state-of-the-art industry practices for what pertains documentary and data formats, in accordance with BIMCO recommendations and documentary templates.
The Secro e-bill of lading solution is formally approved by the International Group of Protection and Indemnity Clubs.
We built our technology and data handling procedures in accordance with the rigorous standards of the ISO 27001:2002 framework, certified by SCK Certifications Private LTD and subject to real-time monitoring through the AndromedaTM compliance platform by Akitra.
Our products
e-Bill
Secro e-Bill™ is a next generation electronic bill of lading combining the functions of a paper bill of lading with increased speed, lower costs, and unrivalled security.
DIGITAL Notary
The Secro Notary Service enables instant verification of documents with the simple scanning of a QR code.
DIGITAL wallet
The Secro Digital Wallet allows access and management of e-BLs in a secure environment.
End-to-end secure collaboration
Secro complements and augments your existing ERPs and TMS by managing processes and protecting critical business data that are currently paper-based or administered via offline systems. The result is unprecedented visibility and control of financial, commercial, and legal workstreams.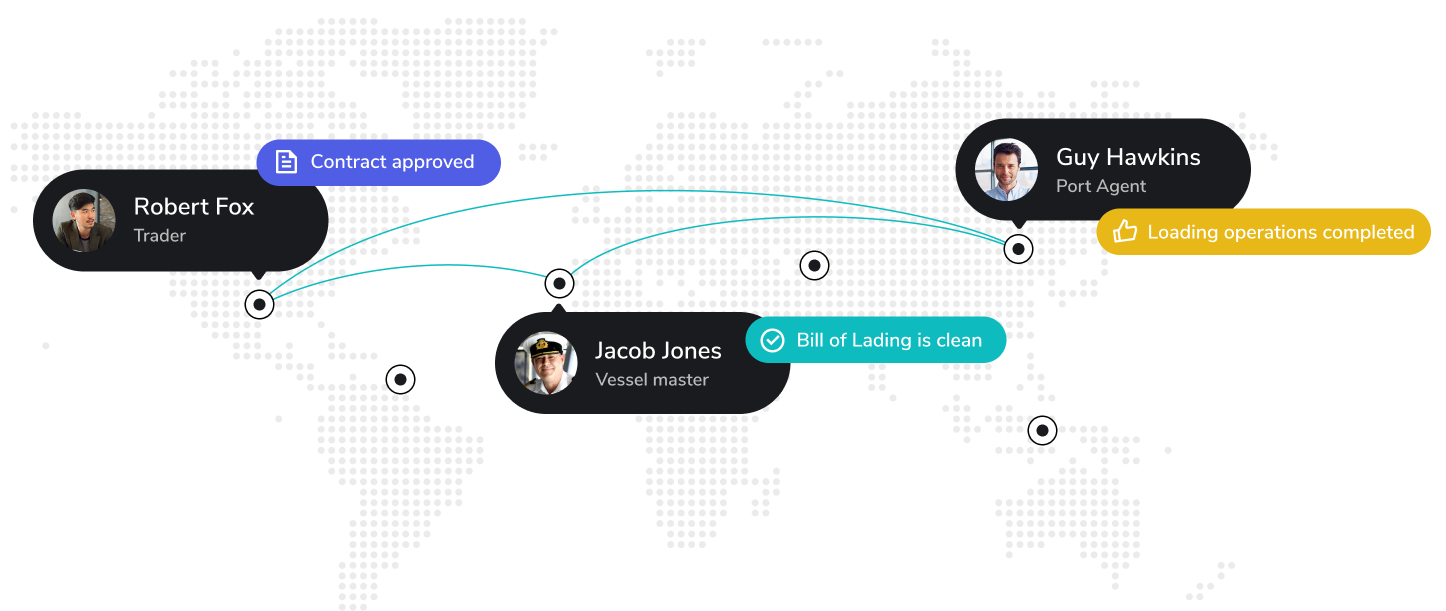 Why We are different
Technology
Secro uses the most advanced technology, including bank-grade KYC, KYB and AML verification. With this, we validate identity & legitimacy, protect data, prevent fraud, detect suspicious behavior and ensure maximum confidentiality.
Collaborative network
Secro provides a secure, vetted network that trading partners can join for free. The onboarding process is seamless, and terms and conditions are straightforward. Secro e-Bill™ of lading is legally recognized globally and does not require cumbersome private agreements upfront, substantially simplifying compliance and expediting critical business flows between traders, carriers, banks and their customers.
Trust
Secro is built in full compliance with the latest digital trade laws and regulations. We have developed a technology that fully meets the requirements of international regulatory bodies, insurance carriers and trade associations. You can trust Secro as a legally robust, yet easy to use solution.
Video overview
Video overview of how Secro transforms cross-border trade